Eran Y. Bellin, M.D.
Professor of Clinical Epidemiology & Population Health
Albert Einstein College of Medicine
Vice President, Clinical Information Technology Research
and Development
Emerging Health Information Technology Group
Montefiore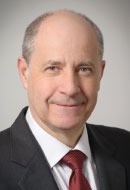 What makes a hospital excellent —a low mortality rate, convenient parking, great food, a stellar reputation? Is there a right size for a healthcare system? Does visiting your doctor after hospital discharge prevent readmission—or cause it? Why is my hospital doing better than yours in all of the measured categories, but overall yours looks better?
Such riddles form the framework for Dr. Bellin's inquiry into how we assess healthcare: by gathering statistics, measuring illness, defining health and healing, describing patients and much more. Such parameters are critical in tracking outcomes and delivering the best future care.
Dr. Bellin is an experienced clinician well qualified to tackle the issues raised by "accountable healthcare": Montefiore's Emerging Health Information Technology Group guards nearly two decades' worth of the health system's electronic medical records from 2.4 million patients. Internal medicine residents at Montefiore and members of Einstein's Clinical Research Training Program get training to learn how to use all those data to improve healthcare and patient outcomes.
Though nearly a decade old, the concept of accountable healthcare still raises thorny questions—and more than half of Dr. Bellin's chapter titles are questions, which he answers with statistics, technology, common sense and examples.
The book is clearly written and should be readily understood by students, professionals and general readers alike. One exception: the section for data geeks and statisticians labeled "For those mathematically and R-programming inclined."
Published by: CreateSpace Independent Publishing Platform,
North Charleston, SC, ©2015
Excerpt from Chapter 28:
How Can We Be Getting Fatter When a Higher Percentage Is Losing Weight?
When studying a school health population of children younger than age 14, Montefiore came across an interesting paradox. Between school years 2012 and 2013, we noted that a higher percentage of overweight children reduced their weight to normal than the percentage of normal-weight children who became overweight. Yet, overall the overweight percentage
of the population increased. Question: How could both
be true? [Answer: There were three times as many normal-weight children as overweight children, resulting in a net gain of overweight kids.]