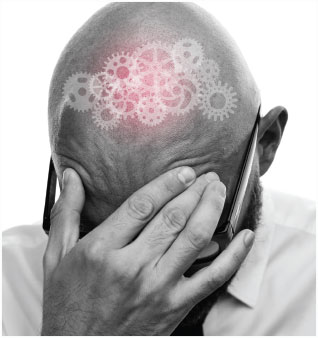 Einstein and Montefiore scientists found that feeling stressed increases the likelihood that elderly people will develop mild cognitive impairment—often a prelude to full-blown Alzheimer's disease. Highly stressed participants were more than twice as likely to become impaired as those who were not. Stress is treatable, so the results suggest that detecting and treating stress in older people might help delay or even prevent the onset of Alzheimer's. The findings were published online last December in Alzheimer Disease & Associated Disorders.
Each year 470,000 Americans are diagnosed with Alzheimer's dementia. Many of them first experience mild cognitive impairment. This study looked at the connection between chronic stress and "amnestic mild cognitive impairment" (aMCI), the most common type of MCI, which is characterized primarily by memory loss.
"Our study provides strong evidence that perceived stress increases the likelihood that an older person will develop aMCI," says Richard B. Lipton, M.D., senior author of the study, vice chair of neurology at Einstein and Montefiore; professor of neurology, of psychiatry and behavioral sciences, and of epidemiology & population health, and the Edwin S. Lowe Chair in Neurology at Einstein; an attending physician in neurology at Montefiore; and director of the Montefiore Headache Center.
The researchers studied data collected from 507 people enrolled in the Einstein Aging Study (EAS), a community-based cohort of older adults. Since 1993, the EAS has systematically recruited adults ages 70 and over who live in Bronx County, NY. Participants undergo annual assessments that include clinical evaluations, a neuropsychological battery of tests, psychosocial measures, a medical history, assessments of daily-living activities and reports of memory and other cognitive complaints.
Starting in 2005, the EAS began assessing stress using the Perceived Stress Scale (PSS). This widely used 14-item measure of psychological stress was designed to be sensitive to chronic stress perceived over the previous month. PSS scores range from 0 to 56, with higher scores indicating greater perceived stress.
All 507 enrollees were free of aMCI or dementia at their initial PSS assessments and later underwent at least one annual follow-up evaluation. They were followed for an average of 3.6 years.
Seventy-one of the 507 participants were diagnosed with aMCI during the study. The greater the participants' stress level, the greater their risk for developing aMCI. Participants in the highest-stress quintile were nearly 2.5 times more likely to develop aMCI than were people in the remaining four quintiles combined.