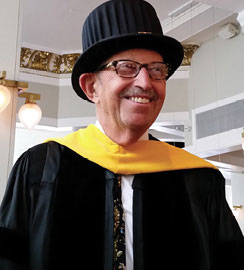 In medicine and other professions, "pioneer" denotes those first to pursue a new enterprise or area of inquiry. By that definition, hematologist Louis M. Aledort, M.D. '59, is a pioneer twice over: He belongs to Einstein's first graduating class and has conducted trailblazing research into coagulation disorders.
Dr. Aledort is the Mary Weinfeld Professor of Clinical Research in Hemophilia at the Icahn School of Medicine at Mount Sinai in New York City, a position he has held since 1993. He studies bleeding related to anticoagulant therapy, the safety and effectiveness of bleeding-disorder treatments and idiopathic thrombocytopenic purpura (a blood disorder in which the immune system destroys platelets).
Recently, Dr. Aledort was awarded an honorary doctorate in medicine from Lund University in Sweden and traveled there in June to participate in the university's graduation ceremony, where the picture above was taken. Dr. Aledort has worked with Lund University on collaborative research projects and training programs for more than 30 years. He has also mentored young Swedish scientists, many of whom have gone on to successful careers.
"Einstein provided me not only with a love of hematology, but also with the discipline needed for a successful career."
"Receiving this honor was the most extraordinary accolade I can imagine as a lifetime achievement award," he says. "As I climbed the stairs to accept the award there were real cannons roaring, and they announced my name in Latin, Ludovice Aledort. They presented me with a diploma, and with a 'wedding ring' as a sign that I am wedded to my profession. The ceremony was followed by a white-tie-and-tails reception and an orchestra playing at midnight—very similar to the festivities following the awarding of a Nobel Prize."
During his career, Dr. Aledort has taken part in many projects that have advanced scientific standards in research and patient care. He has also helped lead several groundbreaking collaborative study groups; worked with a broad range of governmental, nonprofit and educational organizations; written more than 400 peer-reviewed articles; and edited numerous medical journals. And he is known among his peers as a tireless advocate for colleagues and young physicians and investigators.
In 2011, the Einstein Alumni Association recognized Dr. Aledort with its Lifetime Achievement Award. Among his other honors are the Hemophilia and Thrombosis Research Society's Lifetime Achievement Award, the National Hemophilia Foundation's Murray Thelin Science Award and the Mount Sinai Nursing Department's Lifetime Achievement Award. He was elected to Mastership in the American College of Physicians in 2004.
A generous supporter of his alma mater, Dr. Aledort is a member of Einstein's Century Award Society and was one of the first alumni to join Walking with Einstein, the College of Medicine's new legacy giving society. He has served on the Einstein Alumni Association board of governors for decades and was its president in 1969 and 1970. In 2009, he chaired Einstein's first 50th reunion celebration, for his class of 1959; he chaired his 55th class reunion this year.
"Einstein provided me not only with a love of hematology," he says, "but also with the discipline needed for a successful career."