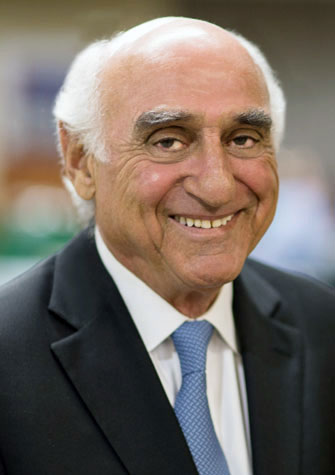 When Elizabeth Taylor came in to consult with plastic surgeon Frank Kamer, he was nervous. "She wasn't my first celebrity, but she was the Queen of Hollywood," he recalls. After Liz, treating Academy Award winners was just another day at Dr. Kamer's Beverly Hills office.
"Entertainers and stars whose faces were their fortunes were the easiest patients," he says. "They knew exactly what they wanted, and I knew exactly what I could do for them."
A surgeon, a teacher and past president of the American Academy of Facial Plastic and Reconstructive Surgery, Dr. Kamer is a member of
Einstein
's fifth graduating class. He remembers the local Jewish and Italian delicatessens—"I gained 20 pounds in my first year," he says, laughing—as well as "wonderful professors, an innovative curriculum, and a lot of hard work. I felt very capable when I left for my internship and surgical residency."
Dr. Kamer focused on removing cancers of the head and neck during his surgical residency at Mount Sinai. "In medicine, conditions are either fixable or not," he says, noting that head and neck cancers are all too often among the latter. "My patients became my friends, and I couldn't stand watching them die."
So he turned his talents to the fixable. "I performed the first cosmetic facelift ever done at Mount Sinai under the teaching service," he says. But he grew tired of Manhattan traffic and relocated to the West Coast, where he built his practice.
Back then, "we used to keep facial surgery patients in the hospital for two or three days. Now they go home after two or three hours," he says, crediting an anesthetic for the dramatic change. "When I started doing facial plastic surgery, I learned from an oral surgeon friend about sedation and local anesthesia for ambulatory cases. I tried it and it worked for my patients, too." Dr. Kamer then helped draw up standards for outpatient protocols that would "transform the entire practice of surgery in this country in a way that benefited the patients."
"Einstein gave me the core values to uphold and succeed in my chosen profession, and I will be forever grateful."
Dr. Kamer performed tens of thousands of reconstructive surgeries over his career. He has written more than 80 papers, lectured and performed surgery around the world, and earned dual academic appointments: clinical professor of head and neck surgery at University of California Los Angeles's David Geffen School of Medicine and clinical professor of otolaryngology at the Keck School of Medicine–University of Southern California. And he established the Lasky Clinic, a renowned outpatient center for cosmetic surgery in Beverly Hills—one of the first such centers in California. Now retired, he returned to the Einstein campus last spring to take part in a ceremony at which he was honored for being a 2013 Alpha Omega Alpha Honor Medical Society inductee.
"Einstein gave me the core values to uphold and succeed in my chosen profession," notes Dr. Kamer, "and I will be forever grateful."
In the end, he says, it's all about the patients: "To heal people, to fix people, to improve the quality of their lives—what a great thing to be able to do in life."