Bob Marion
has dedicated his professional life to diagnosing and treating children with rare genetic disorders or serious developmental disabilities such as autism, spina bifida and Down syndrome.
Dr. Marion joined the
Einstein
faculty in 1984. In 2004, he drew the world's attention as pediatrician to the Aguirre twins, Clarence and Carl, who were conjoined at birth and separated as toddlers in a series of landmark operations at The Children's Hospital at Montefiore. He was named director of the
Rose F. Kennedy University Center
for Excellence in Developmental Disabilities (UCEDD) and of the
Children's Evaluation and Rehabilitation Center
(CERC), the clinical arm of the UCEDD, in 2006. A year later, he was invested as Einstein's second Ruth L. Gottesman Chair in Developmental Pediatrics.
 An Intuitive Clinician
Over the years, Dr. Marion has taken on some of the toughest cases. One notable example is Alena, born in Siberia and adopted just a few months before her fourth birthday by a New York couple. Alena exhibited a confusing array of symptoms, including a heart murmur, slight hearing loss, short stature, slightly stooped posture and mildly coarsened facial features. She was soon referred to Dr. Marion.

Minutes after meeting Alena in the waiting room at
The Children's Hospital at Montefiore
, Dr. Marion suspected that the little girl had Maroteaux-Lamy syndrome (also known as mucopolysaccharidosis, type VI)—a life-threatening condition in which cells lack an enzyme that breaks down complex chemicals. Alena's mother, Marcia, was devastated when testing confirmed the diagnosis. Fortunately, Dr. Marion had read about an experimental enzyme replacement therapy for Maroteaux-Lamy.
When the drug, Naglazyme, was approved by the FDA, Alena was the first patient in the Northeast to receive it. Today, thanks to ongoing drug treatments, Alena is a bright, physically active teenager with a busy social life.
The Einstein
Women's Division
honored Dr. Marion with its Spirit of Achievement Award in the spring of 2009. The award recognizes people who have made outstanding contributions in their fields. Alena presented it to him.
Shaping CERC
Soon after taking the helm at CERC, Dr. Marion set about bringing a clinical research component to the center. In 2009, CERC hired its first research director, cognitive neuroscientist John J. Foxe, Ph.D. '99.
Dr. Marion is now collaborating with Einstein genetics professors Bernice E. Morrow, Ph.D., and John M. Greally, M.B., B.Ch., Ph.D., on determining the genomic profiles of autism and other developmental disorders. And he is investigating 22q11 deletion syndrome, a group of physical and neurological disorders caused by the loss of a small piece of chromosome 22. Children with 22q11 are frequently misdiagnosed as having autism.

"When I was in medical school in the late 1970s, genetics was nothing more than an insignificant subspecialty of pediatrics," notes Dr. Marion. "Now, it's not inaccurate to say that pediatrics—in fact all of medicine—is nothing more than an insignificant subspecialty of genetics!"
As a professor of pediatrics (genetics) and of obstetrics & gynecology and women's health (reproductive genetics), Dr. Marion has taught and mentored countless Einstein medical students and postdocs. He has received the Samuel M. Rosen Award for Excellence in Medical Student Teaching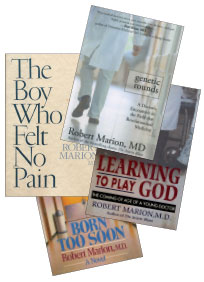 , the Lewis M. Fraad Award for Residency Education and the Obrinsky Award for Excellence in Medical Student Education in the department of pediatrics. He was also inducted into the
Leo M. Davidoff Society
, which honors teachers who have made outstanding contributions to student education. He has written seven books, all of which illuminate the human side of medicine.
A Change of Focus
In December 2012, Dr. Marion suffered a heart attack. To reduce the stress in his life, he decided to step down as CERC's director and concentrate on clinical work. Maris D. Rosenberg, M.D., associate professor of clinical pediatrics (child development) and CERC's director of medical training for the past 27 years, currently serves as interim director.
Dr. Marion continues to see patients at CERC once a week, and several times a week at The Children's Hospital at Montefiore, where he is chief of the division of genetics in the department of pediatrics. He has resumed his responsibilities as medical director of the Einstein-Montefiore Williams Syndrome Clinic, which he founded, and as director of the Einstein/Montefiore spina bifida clinic. He will also stay involved with the new cardiogenetics clinic at Montefiore and assist with three other Montefiore clinics over the next few years. And he'll remain director of the UCEDD.
"I am proud to be Bob's friend, am grateful for all that he's taught me and look forward to continuing to learn from him for many years to come," says Dr. Rosenberg.