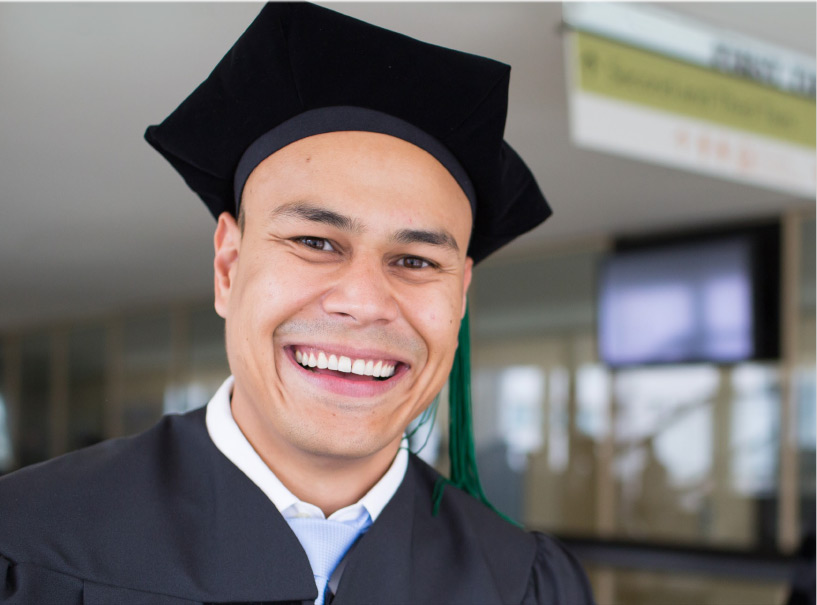 Commencement 2017:
Jorge Aguilar's American Journey
On May 23, 2017, Jorge Aguilar graduated from Einstein along with 209 other students. "I felt like I'd won the lottery," he says, about receiving his M.D./Ph.D. degree. But his path to success wasn't easy. Jorge arrived in the Bronx from Costa Rica at age seven with his divorced mother. She became a permanent U.S. resident when she remarried. But Jorge's application for a green card was turned down three times because the family's income was below the poverty line.
Slated for deportation while a junior in high school, Jorge turned to anyone who might be able to help: his teachers, his school principal, even his baseball coach. Fortunately, his coach's father—a retired judge—persuaded a lawyer to take Jorge's case pro bono, and his deportation was postponed. Meanwhile, Jorge graduated from St. Agnes Boys High School, landed a full scholarship to Swarthmore College and moved to Pennsylvania, where he was able to become a legal resident. He was later admitted to Einstein's M.D./Ph.D. program, also on scholarship.
As luck would have it, the first day of his Einstein orientation, July 3, 2010, coincided with Jorge's naturalization ceremony on Ellis Island—the final step in becoming a U.S. citizen. That morning, he and his family took the ferry to Ellis Island for what he describes as "a very emotional event," in which new citizens crossed the stage to receive their certificates.
Jorge headed to Einstein as soon as the ceremony ended, grabbing lunch just before getting on the subway. "My first act as a U.S. citizen was to eat a McDonald's Big Mac," he recalls. He arrived for his group picture at the Belfer Building half an hour late, just as the photographer was putting his equipment away. "When I told him why I was late, he hugged me and congratulated me," says Jorge.
Looking back, Jorge credits his "angels"—people who helped him along the way—for much of his success. "Had any of them not been there," he says, "I would not be where I am today." Jorge and his fiancée, Caitlin Proper, M.D., also an Einstein grad, are now serving residencies in pediatrics at Children's Hospital in Philadelphia. He is planning a career in pediatric cancer research. "I can't think of a more rewarding line of work than to help kids with cancer, in the hospital and in the laboratory," he says.
Jorge hopes his story will inspire other potential Einstein students from the Bronx. "There are so many invisible barriers to success," he explains. "I was never the smartest student—many other kids were smarter. But there were no angels to help them. It's our responsibility to identify these students and help them along the way."