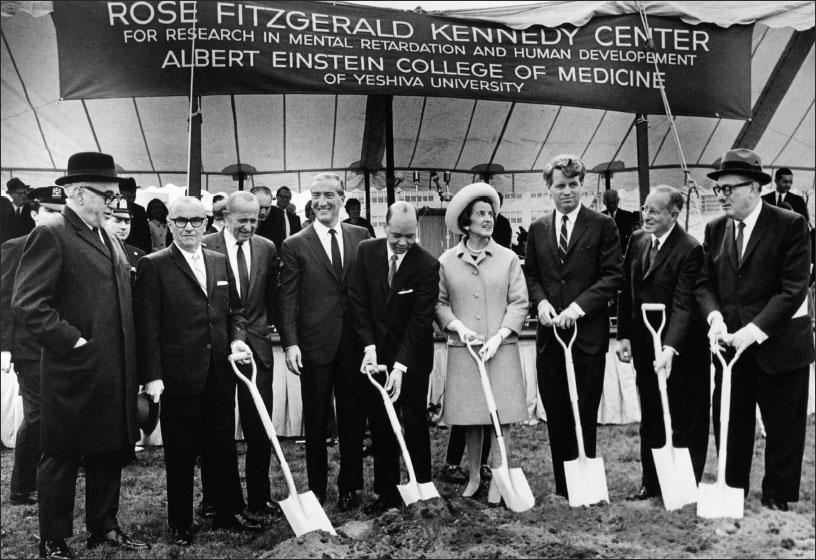 It wasn't until 1961 that Rose and Joseph P. Kennedy revealed to the public that their daughter Rosemary was intellectually disabled. That same year, their son President John F. Kennedy asked the National Institutes of Health to create the National Institute of Child Health and Development. The NICHD established 10 centers around the country for treating people with intellectual and developmental disabilities—one of those centers at Einstein.
Fifty years ago, on May 1, 1966, ground was broken for the Rose F. Kennedy Center for Research in Mental Retardation and Human Development, a nine-story building in the Jacobi Hospital complex. Those attending the ceremony included Mrs. Kennedy and her son Robert F. Kennedy (at center in the photo above).
The federal government funded 75 percent of the center's cost. Other contributors included the Joseph P. Kennedy, Jr., Foundation, the estate of Louis and Ida Katz and the family of Siegfried Ullmann.
Today, the Kennedy Building (earlier this year renamed the Rose F. Kennedy Center for Research in Intellectual Disabilities and Human Development) houses the offices of the NICHD-funded program known as the Intellectual and Developmental Disabilities Research Center (IDDRC); Einstein's Dominick P. Purpura Department of Neuroscience and Saul R. Korey Department of Neurology; and three shared "core" research facilities.
The Children's Evaluation and Rehabilitation Center (CERC), now relocated to the nearby Van Etten Building, remains an integral part of the IDDRC. CERC offers clinical services to children (and adults) with intellectual and developmental disabilities and conducts clinical research.