1950s
Don Kline, M.D. '59, writes, "I am proofing my fifth and latest novel, Waltzing Matilda. My fourth book, The 1880s Cattle Drive Murder, was published earlier this year. When not writing, I am painting, using oil, acrylic and watercolor. I'm getting ready to plant a vegetable garden, and trying to relearn the guitar and banjo and learn the keyboard and clarinet. Who ever said retirement was easy?"
1960s
Phillip Frost, M.D. '61, received the 2016 Sand in My Shoes Award from the Greater Miami Chamber of Commerce for his outstanding community service and contributions to the south Florida community. In 2015, he gave a presentation, "Building a Pharmaceutical Company with Practical Solutions to Making Better Drugs," to the University of Padua's department of molecular medicine in Padua, Italy. Dr. Frost received the Einstein Alumni Association's Dominick P. Purpura Distinguished Alumnus Award in 2014. That year, he also received the Ellis Island Medal of Honor. The medal, bestowed by the National Ethnic Coalition of Organizations, recognizes immigrants and their children for their contributions to America; about 100 medalists are chosen each year.
Kenneth Schiffer, M.D. '61, writes, "I have had the pleasure of practicing primary care pediatrics with two of my children, each of whom is a graduate of Einstein: Michelle Schiffer Merer, M.D. '90, who is married to David Merer, M.D. '90, and Todd Jay Schiffer, M.D. '93. My loving wife of 54 years, Marcia, a Barnard graduate, has run our pediatric office since its inception and is utterly central to our pediatric practice."
Michael S. Olstein, M.D. '65, writes: "I retired in 2015, the year I celebrated my 75th birthday and 50 years of practicing medicine. After graduating from Einstein, I did my internship at Maimonides Medical Center in Brooklyn. Then the Public Health Service sent me to Boston, where I practiced adult medicine at a community health center, did my ophthalmology residency and worked as an emergency room doctor at a busy hospital. In 1971, I opened my solo ophthalmology practice in Medford, MA. I practiced there for 44 years and also served on the faculty of the Tufts University School of Medicine. Shortly before I retired, two of my patients, both in their 90s, reminded me that in addition to caring for their children and grandchildren, I had cared for their parents! I feel fortunate to have been able to work when solo private practice was still viable. I am deeply grateful to Einstein for the superb education and training I received there. I grew up in the Bronx and can remember visiting the site where the new medical school was being built. That same medical school provided me with the foundation of knowledge that let me feel confident and comfortable taking care of my patients."
1970s
Diane E. Stover, M.D. '70, reports, "I am happy to announce that my daughter, Dana, has started a fellowship in infectious diseases at Yale. She plans to do epidemiologic work within the public health field."
Janina R. Galler, M.D. '72, received the Leon Eisenberg Award in Child Psychiatry on May 11, at the Harvard Faculty Club in Cambridge, MA. The award honors contributions to the fields of child mental health and development and of ethics, and it is given annually by the division of developmental medicine at Boston Children's Hospital (BCH). As part of the award presentation, she delivered the sixth annual Ludwik S. Szymanski, M.D., Lecture in Mental Health, Developmental Disabilities and Ethics, "The Legacy of Childhood Malnutrition: Effects on Brain and Behavior Across Generations," during the BCH department of psychiatry's grand rounds. Dr. Galler is director of the Barbados Nutrition Study and a psychiatrist in the Massachusetts General Hospital's Chester M. Pierce, M.D., Division of Global Psychiatry. She currently serves as president of the Einstein Alumni Association.
Peter Rottwein, M.D. '75, reports: "After 17 years at Oregon Health & Science University in Portland, OR, including the last 10 as chair of the department of biochemistry and molecular biology, I took a new position. Since September 2014, I have been part of Texas Tech University Health Sciences Center in El Paso, a new medical university and the fourth institution in the Texas Tech University system. There I am vice president for research and associate dean for research at the Paul L. Foster School of Medicine, and serve as chair of the department of biomedical sciences. Lots of jobs, lots of challenges, but exciting opportunities and great fun."
Lyda Tymiak Lindell, M.D. '76, recently sold her ophthalmology practice (which she'd had for 30 years) and medical spa in Palm Harbor, FL. She is active in community and philanthropic organizations and serves on the board of the Humane Society and on the dean's advisory board of the University of South Florida's College of Arts and Sciences.
Sam Moskowitz, M.D. '76, writes: "I have added a third fellowship to my title. I am now Sam Moskowitz, F.A.C.P., F.A.C.G. and, most recently, A.G.A.F. (Fellow of the American Gastroenterological Association). I founded the Association for Orthodox Jewish Gastroenterologists 15 years ago; it has members from all over the world, including Europe, Israel and Australia. We meet annually as part of Digestive Diseases Week and hold our own meetings to network among ourselves. This year the meeting was in San Diego; it conflicted with my 40th reunion alumni dinner. I am a founding partner in the Brooklyn Surgery Center, a new multispecialty surgery center in Brooklyn, NY. It includes gastroenterology, orthopedics, podiatry, pain management and IVF, with other specialties coming on board."
Miriam Gutmann Sava, M.D. '76, writes: "I share office space with my son, Aryeh Sava, Ph.D., a licensed clinical child and adolescent psychologist. We are collaborating on a number of shared clinical cases and it's really been exciting—he even occasionally asks for my advice now! I continue to supervise child psychiatry residents year-round. My daughter is married and has four children; she also lives in Chicago, and we just celebrated our oldest grandchild's bat mitzvah. My youngest, Dani, an Einstein graduate (Daniel Sava, M.D. '14), is finishing his first year in physical medicine and rehabilitation at Johns Hopkins."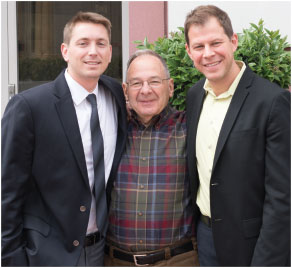 Three Generations of Einstein Excellence
"I have your back" is more than just a catch phrase to Einstein alumni. Sterling J. Haidt, M.D., Class of 1970—a retired vitreoretinal surgeon, founder of Northern California Retinal Vitreous Associates and an adjunct clinical associate professor of ophthalmology at Stanford University Medical School—recently went to Dimitriy Kondrashov, M.D., Class of 2000, a spinal surgeon at St. Mary's Medical Center in San Francisco, seeking relief from stenosis complicated by scoliosis.
Dr. Kondrashov obliged his fellow alum by performing a five-level spinal fusion at St. Mary's Spine Center, using the only robot designed for spinal surgery. Eric Holden, M.D., Class of 2011, Dr. Kondrashov's fellow, assisted. "I am doing well and almost pain-free," Dr. Haidt reports. To express his gratitude, he made a gift to the Einstein Alumni Association in Dr. Kondrashov's honor.
1980s
Max Shapiro, M.D. '84, writes, "I have two sons in medical school!"
Joseph R. Maldonado, Jr., M.D. '85, M.Sc., M.B.A., Dip. E.B.H.C., reports: "I completed my term as president of the Medical Society of the State of New York and have been appointed the new president of the Medical Educational Scientific Foundation. Last year, I found a missing link in my lifelong genealogical research, which connects my family's roots to Sephardic Jews expelled from the Iberian peninsula during the Inquisition. On Yom Hashoah 2016, I made a return to Orthodox Judaism. My next task is to find the ancestral links to eight exact genetic Y chromosomal-matching Ashkenazi Jews in Eastern Europe!" Dr. Maldonado can be reached at joe.maldonadojr@yahoo.com.
Lori Feldman-Winter, M.D. '86, is a professor of pediatrics at the Cooper Medical School of Rowan University in Camden, NJ, and co-course director for the Scholars' Workshop, a four-year course at this new medical school. Dr. Feldman-Winter also serves as a consultant for the CHAMPS project, a breast-feeding initiative funded by the W. K. Kellogg Foundation, and is a member of American Academy of Pediatrics' task force on sudden infant death syndrome. Her husband, Jonathan, is president of the New Jersey Dermatological Society. Her daughter Rebecca graduated from Columbia University's School of Engineering, received a master's degree in mechanical engineering from the University of Pennsylvania and is now pursuing a Ph.D. at Drexel University in Philadelphia. Her daughter Sarah, a magna cum laude graduate of the University of Michigan, is a first-year student at the University of Pennsylvania's School of Veterinary Medicine.
Maryirene Ilchert-Flynn, M.D. '86, has been in private practice on Staten Island, NY, since 1992, specializing in sports medicine. She became a police surgeon for the New York Police Department in 2009 and notes, "Currently, I am the only female police surgeon!" She adds, "Tony and I have been married for 33 years. We have three beautiful children. Kathleen, 26, graduated from Fairfield University in Connecticut with a bachelor's degree in English and a business law minor. She works at Glocap Search, a firm specializing in the financial sector, based in New York City. Kelly, 21, a junior at Lafayette College in Pennsylvania, is a chemical engineering major and a starting player for its Division I volleyball team. Sean, 15, is a freshman at Holy Cross High School in Queens, NY. Already 6 feet 5 inches tall, he loves sports and plays basketball and volleyball."
Paul Quartararo, M.D. '86, has served as chief medical director for the New York Life Insurance Company since 2013, and is active in the American Academy of Insurance Medicine. He writes: "Carol and I recently celebrated our 30th wedding anniversary. Much of our recreation comes from ballroom dancing. Our first-born daughter, Catherine E. Quartararo, Ph.D. '13, was married the week before Reunion. Our other two daughters have completed college; one is independent and the second is almost there!"
1990s
Panayiotis Andreou Ellinas, M.D. '91, M.P.H., resigned from the U.S. Army Medical Corps Reserves and is now practicing industrial/occupational medicine. He writes, "I made a fresh start for my whole family in what is probably America's most wonderful and best-kept secret of a small town: Edwardsville, IL."
Ronald Lubetsky, M.D. '91, recently celebrated 14 years as medical director of the ProCare Health Center in North Miami Beach, FL, and 10 years as medical director of Broward Physician Therapy in Hollywood, FL. He is a fellow at the Arizona Center for Integrative Medicine and is working on a book.
Hugh Bases, M.D. '94, is a developmental-behavioral pediatrician at the New York University School of Medicine and serves as program director for its developmental-behavioral fellowship program. He writes, "My daughter, Rachel, is heading to college this fall, and my son, Ben, will be starting the 10th grade. My wife, Randi Asher (Ferkauf, Psy.D. '96), is in private practice as a clinical psychologist on Manhattan's Upper West Side."
2000s
Henry Rascoff, M.D. '01, and his partner, Katherine Noble, M.D., recently co-launched Sound Beach Pediatrics, a private practice in Stamford, CT. He writes, "Our motto is 'Health, Family, Community.' Our goal is to serve both privately insured and Medicaid patients."
Savita Srivastava, M.D. '01, writes, "I enjoy being a gastroenterologist in the University of Virginia Physicians Group, in Charlottesville, and am honored to participate in the American Gastroenterological Association's Future Leaders program. I have a son, Neil, 5, and a daughter, Nayla, 4."
Matthew Dombrow, M.D. '06, completed a residency in ophthalmology at the University of Medicine and Dentistry of New Jersey (now a part of the Rutgers School of Biomedical and Health Sciences) and a fellowship in retina at Yale Medical School. He reports, "I am now in private practice in the New Haven area of Connecticut. I married my wife, Melissa, during my fourth year of medical school. We have two daughters: Leah, age 6, and Alexa, age 3."
Shahrooz Eshaghian, M.D. '06, is an attending physician in the division of hematology & oncology at Cedars-Sinai Medical Center in Los Angeles, and a clinical instructor at the David Geffen School of Medicine at the University of California, Los Angeles (UCLA). After completing his internship and residency in internal medicine at Cedars-Sinai in 2009, Dr. Eshaghian did a three-year fellowship in hematology & oncology at UCLA Medical Center, serving as chief fellow in 2011–12. He was named a Super Doctor Southern California Rising Star in 2013, 2014 and 2015.
Adam Friedman, M.D. '06, F.A.A.D., reports: "After serving for five years as the director of dermatologic research and as associate residency program director in the division of dermatology at Einstein, I was recruited to be the founding residency program director and director of translational research in the department of dermatology at the George Washington University School of Medicine & Health Sciences in Washington, DC. During my time at Einstein, I published more than 100 manuscripts and two textbooks, and was awarded multiple patents, culminating in the formation of Nano BioMed, Inc.," a company specializing in nanoparticle-based drug therapies.
2010s
Vijay Kotecha, M.D. '14, has completed his second year of residency in internal medicine at the University of California, San Francisco. He writes, "I continue to see a few Einstein alums around the hospital on a regular basis: internal medicine interns Saate Shakil, M.D. '15, and Nick Iverson, M.D. '15, and general surgery resident Key Nguyen, M.D. '14. My plans after residency remain uncertain, though I likely will work in some capacity in general medicine and health systems improvement. Happy to reconnect with any Einstein folks who find themselves in the Bay Area!"
In Memoriam
We acknowledge with sadness the passing of the following Einstein alumni. We honor their memories and extend our deepest condolences to their families and friends.
Richard Sens, M.D. '61
Lee Toon, M.D. '68
Lucia Boselli, M.D. '91
To be included in the next issue, e-mail your news to alumni@einstein.yu.edu.