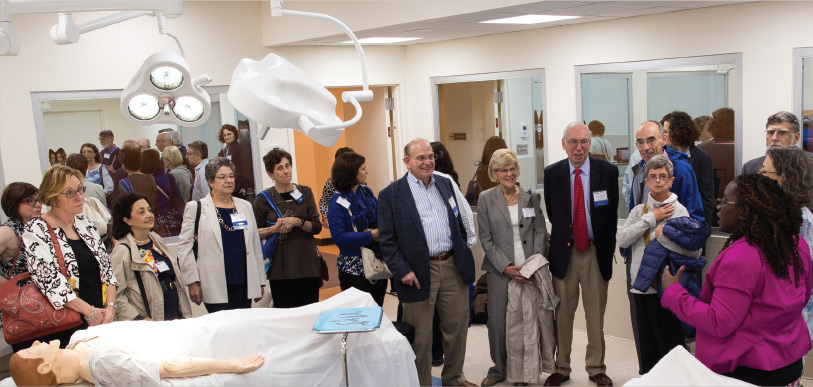 ALUMNI DAY ON CAMPUS, MAY 24, 2016.
Alumni visit the Simulation Center in the Van Etten Building during a campus tour.
This year's Einstein reunion drew alumni from 10 classes (graduation years ending in 1 or 6), including the milestone 50th Anniversary Class of 1966.
Tuesday, May 24
ALUMNI DAY ON CAMPUS
The alumni gathered on Einstein's Jack and Pearl Resnick Campus to catch up, remember their medical-school days and take part in
Einstein Alumni Association
activities. On the itinerary: a campus tour, an alumni-faculty luncheon in the Lubin Dining Hall and a symposium in the Price Center/Block Research Pavilion's LeFrak Auditorium. The symposium featured a discussion of "the new Einstein" led by
Edward R. Burns, M.D. '76
, executive dean, and presentations on timely medical issues by Einstein faculty members
Liise-anne Pirofski, M.D. '82
, and
Joe Verghese, M.B.B.S.
GALA REUNION DINNER
Members of the milestone anniversary class were guests of honor at the Gala Reunion Dinner, which was held for all 10 reunion classes at Manhattan's Grand Hyatt New York Hotel and hosted by the Alumni Association. During the dinner, class representatives took to the podium to share memories of their Einstein years.
Speaking for the Class of 1966 was
Ruth E. K. Stein, M.D. '66
, recipient of the Alumni Association's 2015 Lifetime Achievement Award. "Our class predated broad-spectrum antibiotics and the AIDS, Ebola and Zika epidemics, and we had only just begun to understand the role of DNA and RNA. Epigenetics and personalized medicine were not yet on the horizon," Dr. Stein recalled. She is a professor of pediatrics at Einstein, associate director and director of research training for the developmental-behavioral pediatrics training program at Einstein and Montefiore and director of academic affairs for the Children's Evaluation and Rehabilitation Center and the division of developmental medicine.
Wednesday, May 25
Commencement Day
The festivities continued with an Alumni Association–sponsored luncheon for members of the Class of 1966, held at a Manhattan restaurant.
Members of the Class of 1966 led other reunion celebrants in marching at Commencement. As they entered Lincoln Center's David Geffen Hall, the honorees were greeted with applause by the assembled dignitaries, guests and new graduates.
Planning is under way for Reunion 2017, celebrating the Einstein classes of 1962, 1972, 1977, 1982, 1987, 1992, 1997, 2002 and 2007 and honoring the 50th Anniversary Reunion Class of 1967. To learn more or to get involved, contact the office of alumni relations at 718.430.2013 or alumni@einstein.yu.edu.