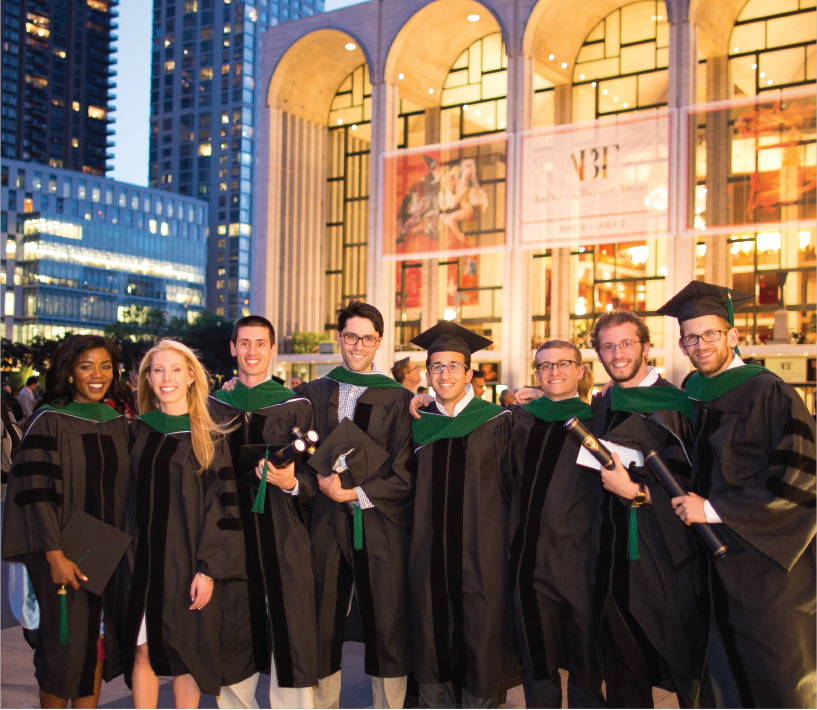 SCIENCE AT THE HEART OF MEDICINE
Commencement 2016
"It's a pleasure to see so many happy people in one place at one time," said Edward R. Burns, M.D. '76, Einstein's executive dean, at Einstein's 58th commencement. The event took place May 25 in New York at Lincoln Center's David Geffen Hall.
Allen M. Spiegel, M.D., the Marilyn and Stanley M. Katz Dean, distributed the alumni and faculty awards and then introduced the commencement speaker—Einstein's own Susan Band Horwitz, Ph.D., the distinguished professor of molecular pharmacology who discovered the mechanism of action of the anticancer drug paclitaxel (Taxol). Dr. Horwitz shared homespun wisdom with the graduates. "Every morning when I walk through the lobby of the Forchheimer Building, I see the words 'Science at the Heart of Medicine,'" she said. "That motto sets me up for the day, because I know that progress in treating serious disease will come from a greater understanding of human physiology and chemistry."
Dr. Horwitz is a fan of the simple question. "The right simple question can often produce meaningful results," she said. In her case, the question was "How does Taxol kill tumor cells?" Pursuing the answer became her life's work, and today this extract of the Pacific yew has helped more than a million people with ovarian, breast and lung cancer. She has received many honors for her discovery, including the Rose C. Falkenstein Chair in Cancer Research at Einstein and membership in the National Academy of Sciences and the National Academy of Medicine.
Dr. Horwitz concluded her address by reminding the audience not to forget the "heart" part of the Einstein motto. "It's important to listen to students, patients, colleagues and children with genuine interest and concern," she said. "Great advances in technology can never replace empathy between humans or within a community."
EINSTEIN TASSEL TALLY
DEGREECLASS OF 2016GRADUATES SINCE 1959
| | | |
| --- | --- | --- |
| M.D | 198 | 8,593 |
| PH.D. | 72 | 1,566 |