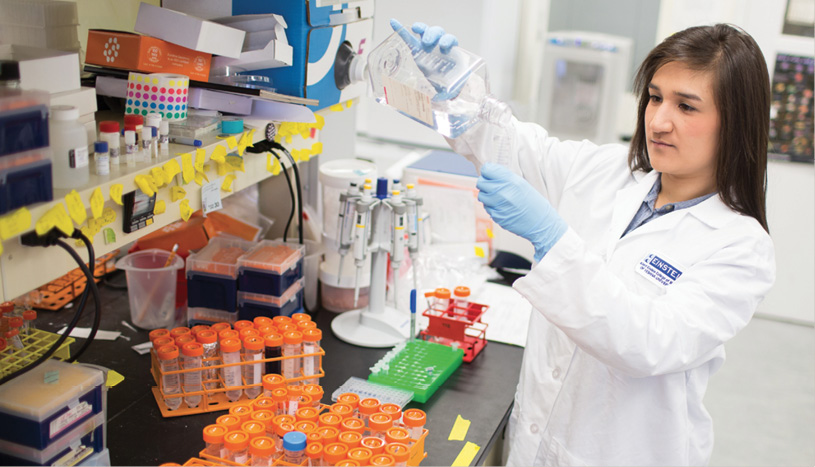 Einstein's 148 research technicians rarely publish papers or appear in the media, but they are the guardians of laboratory productivity and research quality. Their responsibilities include assisting with assays, placing orders, keeping track of reagent and equipment expenses and training lab members in experimental procedures.
"Research technicians are essential for lab life," says Teresa V. Bowman, Ph.D., an assistant professor of developmental and molecular biology and of medicine. "They're the ones who understand all the techniques of a lab, maintain colonies and supplies and know whom to contact to get anything done. They are the glue that can provide continuity through many generations
of trainees."
Most research technicians hold bachelor's degrees in the biological sciences and have at least some prior lab experience. Some come straight from undergraduate training to gain a few years of research experience before progressing to the next phase of their careers, which might include medical school, graduate school or a different research role.
One such person is Mia McKinstry (pictured above), a research technician in Dr. Bowman's lab, who joined Einstein after finishing her undergraduate studies and had worked as an undergraduate research assistant. With medical school on the horizon for next fall, McKinstry wanted to gain more basic science research experience first.
"Even though technicians are not the main drivers or idea-bringers in experimental research, it is exciting to know that we are helping push the research forward," says Ms. McKinstry. "I enjoy being at the bench. Combining that with the stimulation of learning about the biological processes your lab is trying to understand makes the job a good balance of physical and mental work."