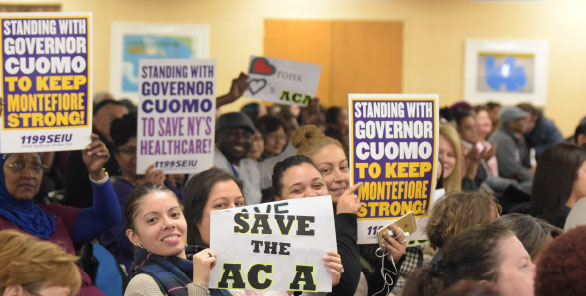 In a speech last February to an overflow audience at Einstein, New York governor Andrew Cuomo stressed that repeal of the Affordable Care Act would imperil healthcare, jobs and funding. The event was sponsored by 1199SEIU (Service Employees International Union), the nation's largest healthcare union. The governor was joined by Steven M. Safyer, M.D. '82, president and CEO of Montefiore Medicine; George Gresham, president of 1199SEIU; and others.
A crowd of about 1,000 people from Einstein and Montefiore filled the Mary and Karl Robbins Auditorium and spilled into the nearby Lubin Dining Hall, which was equipped with a video feed.
In his opening remarks, Dr. Safyer said that healthcare in the Bronx and across New York is endangered by possible repeal of the Affordable Care Act. Dr. Safyer voiced strong support for Governor Cuomo, who has vowed to defend the act. "Everyone in this room is concerned about the future of the world, the country and certainly our state, and the governor is standing up for what's right,'" he said.
"We will not allow our healthcare to be thrown into crisis when we can least afford it," said Mr. Gresham, who outlined the threats to jobs and healthcare and described how union leadership is responding.
The capacity crowd greeted Governor Cuomo with a standing ovation and raised posters that read, "Standing with Governor Cuomo to Save NY's Healthcare."
"Three million New Yorkers are now insured under the Affordable Care Act," said the governor. "That is one in every six who would lose their insurance—and we're not going to let that happen. You demand and you deserve quality healthcare," he added, noting that Montefiore is not only a "beautiful" healthcare institution but provides 31,000 jobs. "You think Montefiore is great now; you ain't seen nothing yet," he said. "The State of New York is going to invest another $50 million in Montefiore and the workforce here because we believe in you. We're going to be stronger than ever."
Other speakers were Kenneth Raske, president of the Greater New York Hospital Association; Jeff Klein, state senator and the leader of the Independent Democratic Conference; and Bronx borough president Ruben Diaz Jr.