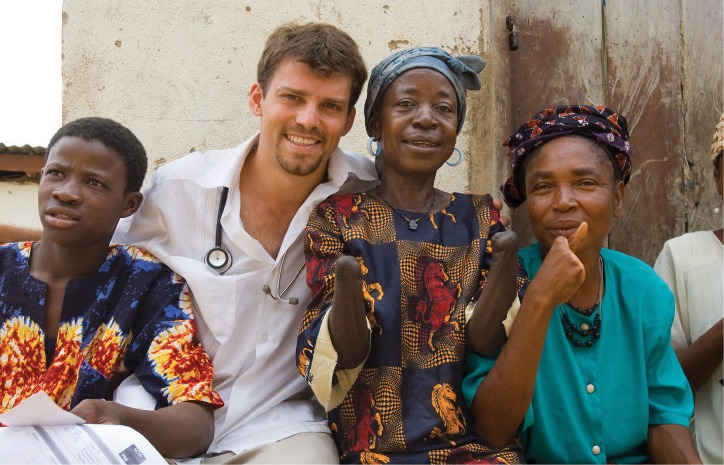 Dr. Dan Kelly, during his final year in medical school, with three patients who had amputations and were living at the Wardu resettlement community in Kono District, Sierra Leone, Africa.
A Clinic in Africa With Roots in the Bronx
Dan Kelly, M.D., Class of 2008, says a major reason he chose Einstein after graduating from Princeton University was the opportunity to work in the ECHO clinic. "I was so excited that I even started at ECHO several weeks before medical school began," he says.
Two years before he graduated, Dr. Kelly cofounded a medical clinic for the poor in Sierra Leone, Africa, with a local doctor there. The clinic, which has since been integrated into Partners in Health–Sierra Leone, currently sees 250 to 300 patients a day, Dr. Kelly says.
"Without ECHO I don't think I'd have been able to start a clinic from scratch," he says. "In medical school you're taught how to take care of patients, but you don't learn about the operational and administrative details that are needed to create the physician experience—how to set up the environment, how to organize patient records, all of those different pieces."
Today Dr. Kelly is an infectious-disease specialist and epidemiologist at the University of California, San Francisco. His work focuses on ways to improve Ebola prevention and care, primarily in Sierra Leone and Liberia but also the Democratic Republic of the Congo.
"ECHO was a great experience for me—and not just for the practical skills I picked up," he says. "I think it's important for medical students to get a broader view of their potential role in the world, what social justice is, why healthcare should be a human right."